Welcome to MSBA
We are a non-profit membership organization of beekeepers in Maine, dedicated to education using best practices and the promotion of beekeeping to the public. Affiliated with local chapters throughout the state, MSBA also works with the Maine Department of Agriculture, Conservation and Forestry to promote the honey bee, products of the hive and initiatives to support beekeepers. 
Karen Thurlow, one of our most popular speakers, presented "A Fall Beekeeping Smorgasbord" on September 15th. The webinar featured a range of timely topics including honey harvesting and extracting, robbing, fall feeding and more. A recording is now available for members to view on YouTube by clicking on READ MORE below. State Apiarist Jen Lund's August 12th webinar "Fall Varroa Mite Management" is also available there.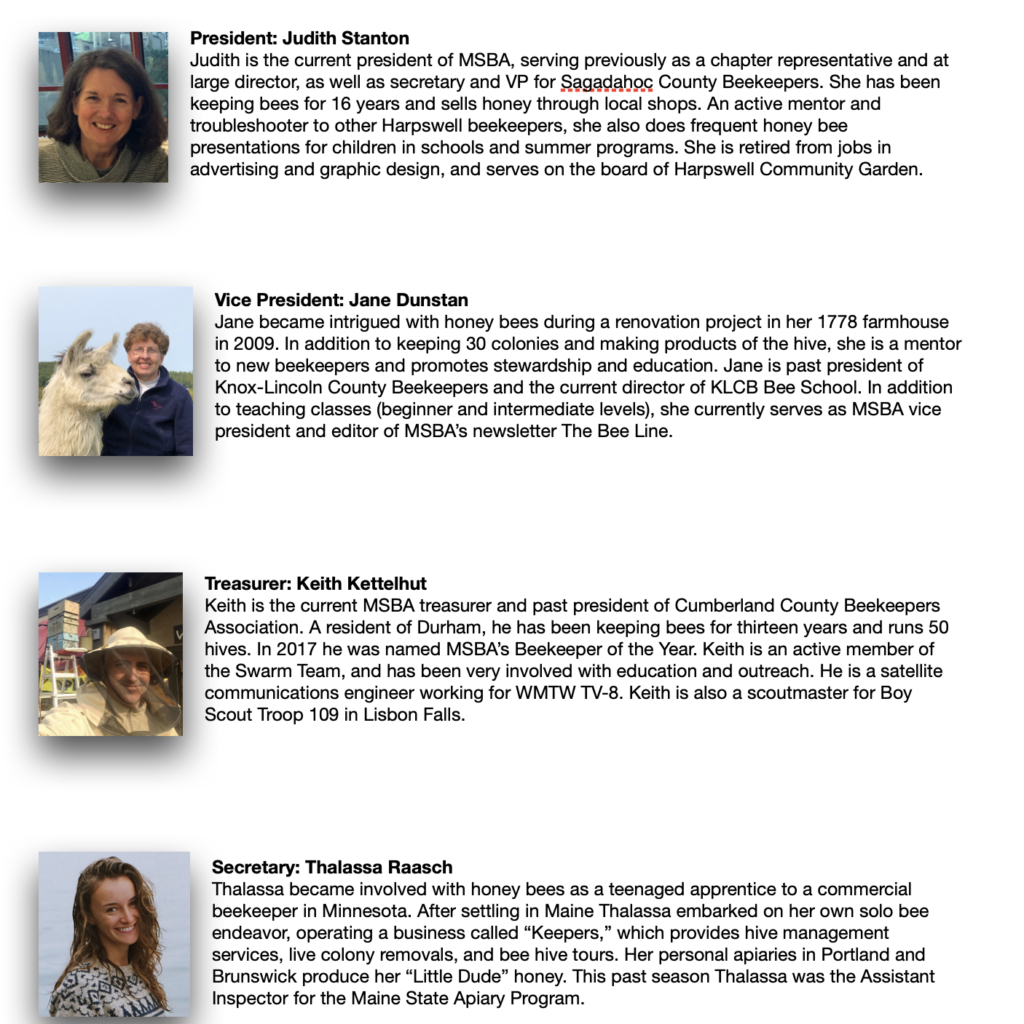 MSBA's Board of Directors is dedicated to the ongoing mission of supporting Maine beekeepers. The organization is responsible for publishing the Bee Line newsletter; producing timely webinars (over a dozen since the pandemic shutdown); a wide variety of helpful content on this website; running a booth at the January Ag Show in Augusta for over 40 years, and much more. All executive board members are returning for 2022 and four new Directors at Large will join the team for two- to three-year terms.
MSBA's Annual Meeting will be held virtually on Saturday, October 16th. The 8:30 am to noon program will focus on queen bees. Speakers are Dr. David Tarpy, NC State University professor and extension specialist in honey bee biology, and Massachusetts Bee Inspector Paul Tessier. Maine State Apiarist Jen Lund will provide an overview of her observations during hive inspections.. Click on the photo above to register online, or on READ MORE for a printable form and details about the speakers and program.