Welcome to MSBA
MSBA is a non-profit membership organization of beekeepers in Maine, dedicated to education using best practices and the benefits of honey bees to the public. Affiliated with local chapters throughout the state, MSBA also works with the Maine Department of Agriculture, Conservation and Forestry to promote the honey bee, products of the hive and initiatives to support beekeepers.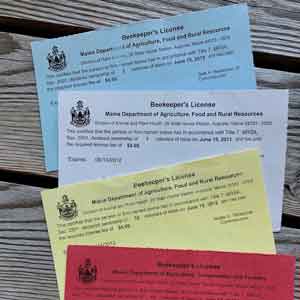 Register Apiaries by June 15th
Don't forget to register your hives! There is a state law that all beekeepers must register their colonies annually with the Maine Department of Agriculture, Conservation and Forestry. Fees are used to fund Maine's apiary inspection program, which includes notification should there be an outbreak of foulbrood disease in your area. If you registered for an apiary license last year, renewal forms will be mailed to you. New beekeepers or those who haven't registered hives in the past can find the link to an application form by clicking on READ MORE.
Next "Chat with Jennifer Lund"
OPEN TO ALL BEEKEEPERS! Join Maine state apiarist Jen Lund on Wednesday, June 14th at 7:00 pm to hear what she is seeing around the state, what you should be keeping an eye on in your own apiary, and your next management steps. An open Q&A session will give attendees the opportunity to get answers to any questions you may have from Jen and other experienced beekeepers. The two remaining sessions are on August 9th and October 11th, also on Wednesday nights at 7:00 pm. They will not be recorded. Click on READ MORE for the Zoom link.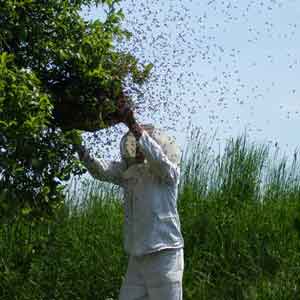 Swarming is part of the honey bee's natural reproductive cycle, in which the queen and a good portion of the population leave the hive to find a new home. Swarms are relatively harmless, but can sometimes be an alarming sight. MSBA's volunteers can help relocate honey bees that have settled on your property. Click on READ MORE to send a report that will alert a swarm catcher in your area. Please make sure that what you are seeing are honey bees: our beekeepers are not exterminators and do not remove hornet nests, bumble bees, wasps or other stinging insects.