Welcome to MSBA
We are a non-profit membership organization of beekeepers in Maine, dedicated to education using best practices and the promotion of beekeeping to the public. Affiliated with local chapters throughout the state, MSBA also works with the Maine Department of Agriculture, Conservation and Forestry to promote the honey bee, products of the hive and initiatives to support beekeepers. 
Segmented recordings of Annual Meeting presentations can be found under the Membership menu tab, along with past webinars – just log in to your account to access them. Dr. David Tarpy, NCSU professor and extension specialist in honey bee biology spoke on "The Quality of Commercial Queens" and Massachusetts Bee Inspector Paul Tessier on "Practical Queen Management." State Apiarist Jen Lund gave her "State of the State" address on what happened in Maine apiculture over the past season.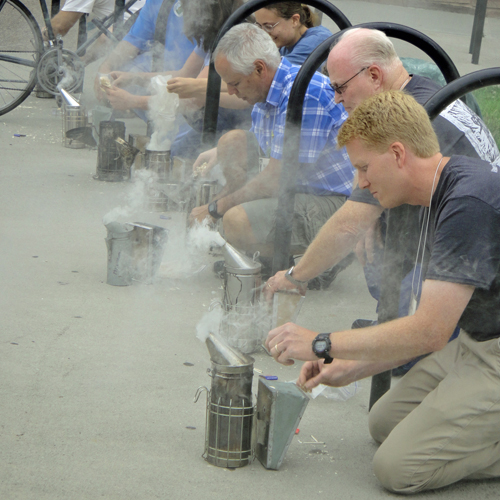 If you're thinking about becoming a beekeeper, consider taking one of many beginner courses - both in person and virtual - that will be held throughout the state in early 2022. Reading a beekeeping book or viewing YouTube videos is less than adequate preparation for this challenging endeavor. "Bee Schools" are run by local beekeeping clubs, county cooperative extension services, adult education programs, beekeeping supply businesses and others. A comprehensive listing can be found under the Education tab.
The compelling November 1st webinar "Thermoregulation and Ventilation" was recorded and is now available for member viewing. Bill Hesbach, who was presented with the Distinguished Speaker Award at the 2019 EAS conference, discusses how bees in a cluster generate heat in winter. The talk covers moisture's role during cold weather, how insulation can help promote a more natural balance inside a hive, and myths concerning added ventilation. Members can find the recording by clicking on READ MORE.