Welcome to MSBA
MSBA is a non-profit membership organization of beekeepers in Maine, dedicated to education using best practices and the benefits of honey bees to the public. Affiliated with local chapters throughout the state, MSBA also works with the Maine Department of Agriculture, Conservation and Forestry to promote the honey bee, products of the hive and initiatives to support beekeepers. 
MSBA's Swarm Catching Team
Swarming is part of the honey bee's natural reproductive cycle, in which the queen and a good portion of the worker population leave the hive to find a new home. Bees in a swarm are relatively harmless, but can sometimes be an alarming sight. MSBA's volunteers can help relocate honey bees that have settled on your property. Click on READ MORE to fill out an online form that will alert a swarm catcher in your area. Please make sure you have identified the swarm as honey bees: note that our beekeepers are not exterminators and do not remove hornet nests, bumble bees, wasps or other stinging insects.
The Annual Meeting is scheduled for Saturday, October 15th at the University of Maine at Augusta, hosted by the Kennebec Beekeepers Association. Some great speakers have been lined up: Dr. Tom Seeley, Cornell University professor and acclaimed author of several books on honey bee behavior, including Honeybee Democracy and The Wisdom of the Hive, and Dr. Lewis Bartlett, a faculty research scientist on honey bee biology and health at the University of Georgia. State apiarist Jen Lund will present the annual "State of the State" address. Join us for a fun day with all the traditonal highlights!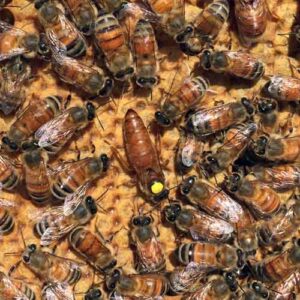 Dr. David T. Peck, Director of Research and Education at Betterbee, did an excellent presentaion on queen management and biology on July 18th. The recording is now available for viewing on the membership page. Coming up on August 30th, Geoff MacLean will talk about sustainable beekeeping, including how to do a split and successfully overwinter nucs. Carolyn Nichols will give a presentation on making mead on September 28th, and on October 26th Jennifer Vashon, Maine Department of Inland Fisheries and Wildlife's bear biologist, will discuss bears and beekeepers in Maine.