Welcome to MSBA
MSBA is a non-profit membership organization of beekeepers in Maine, dedicated to education using best practices and the benefits of honey bees to the public. Affiliated with local chapters throughout the state, MSBA also works with the Maine Department of Agriculture, Conservation and Forestry to promote the honey bee, products of the hive and initiatives to support beekeepers.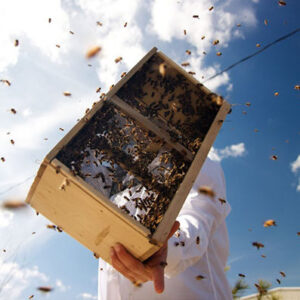 March Beekeepers Calendar
Most queens will be laying eggs by the end of this month. Very little natural forage is available so monitoring food reserves is critical. It is not uncommon for a hive to make it through the hardest part of winter only to starve in March/April. If honey reserves are low, feed candy or dry sugar. Pollen substitute may be fed to strong colonies with plenty of honey stores in mid-March. Set up equipment for new packages/nucs. Clean smokers and repair/build hive boxes. Install electric fencing if there is bear activity in your area.
Read a Bee Book to Kids!
"Read ME Agriculture" 2023 is the week of March 20th for Pre-K to 4th grade students. This year's book is Honeybee: The Busy Life of Aphis Mellifera. Maine Agriculture in the Classroom is looking for beekeepers to participate as readers: email MAITC@maine.gov to volunteer. (Readings may also take place before/after the official week.) Sponsors are also needed – $15 covers the cost of the book and an educator's guide. If you are interested in sponsoring please click on READ MORE for payment options.
Our next webinar will take place on Wednesday, April 19th at 7 pm with Karen Thurlow. She will be talking about raising queens by letting the colony do 90% of the work. Karen is a master beekeeper who has been been keeping bees since 1978, and is the instructor for MOFGA's bee school. On May 1st Heather Mattila, Professor of Biological Sciences at Wellesley College, will give a presentation on how honey bees defend against attacks by giant hornets. All webinars are recorded and can be viewed on the members-only portal on this website.