Welcome to MSBA
We are a non-profit membership organization of beekeepers in Maine, dedicated to education using best practices and the promotion of beekeeping to the public. Affiliated with local chapters throughout the state, MSBA also works with the Maine Department of Agriculture, Conservation and Forestry to promote the honey bee, products of the hive and initiatives to support beekeepers. 
Recordings of two informative and timely webinars produced by MSBA are now available for member viewing: Lincoln Sennett of Swan's Honey on "Successful Nuc Installation and Spring Splitting Strategies" and "All You Ever Wanted to Know About Swarms" with State Apiarist Jennifer Lund. Click on the photo above for links to the webinar recordings, or go to our Membership page to become a member for $15 a year.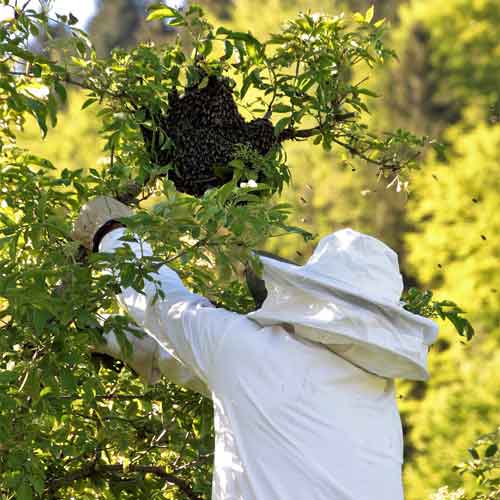 We can help if you have a honey bee swarm on your property. Swarming is a part of the natural reproductive cycle, in which the queen and a portion of the worker population leave the hive to find a new home. Swarms are relatively harmless, but can be an alarming sight. Bees should not be sprayed with water or disturbed in any other way. Please make sure you have identified them as honey bees, not wasps, before contacting us.
Anyone who keeps honey bees in Maine must register their hives with the Department of Agriculture. This apiary license is valid for a 12–month period, from mid-June. You will receive a renewal form in the mail if you registered in 2020. There is an option to be listed as a swarm catcher, and beekeepers who provide their email address will be included on important updates regarding pests and diseases, as well as educational opportunities .