Welcome to MSBA
We are a non-profit membership organization of beekeepers in Maine, dedicated to education using best practices and the promotion of beekeeping to the public. Affiliated with local chapters throughout the state, MSBA also works with the Maine Department of Agriculture, Conservation and Forestry to promote the honey bee, products of the hive and initiatives to support beekeepers. 
Karen Thurlow, one of our most popular speakers, presented "A Fall Beekeeping Smorgasbord" on Wednesday, September 15th. The webinar featured a range of timely topics from honey harvesting to fall feeding. A recording of that, and State Apiarist Jen Lund's August 12th webinar "Fall Varroa Mite Management" are both now available for viewing by clicking on READ MORE.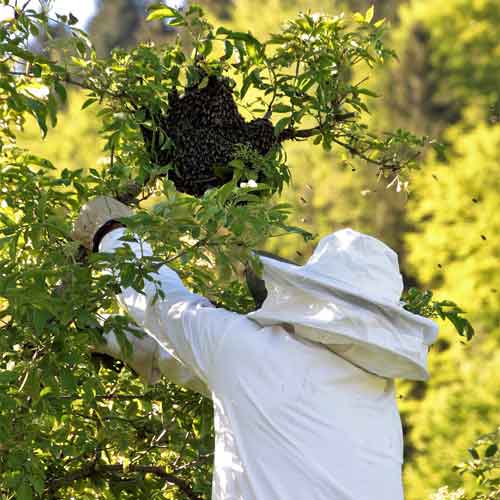 We can help if you have a honey bee swarm on your property. Swarming is a part of the natural reproductive cycle, in which the queen and a portion of the worker population leave the hive to find a new home. Swarms are relatively harmless, but can be an alarming sight. Bees should not be sprayed with water or disturbed in any other way. Please make sure you have identified them as honey bees, not wasps, before contacting us.
MSBA's Annual Meeting will be held virtually on Saturday, October 16th. The 8:30 am to noon program will focus on queen bees. Speakers are Dr. David Tarpy, NC State University professor and extension specialist in honey bee biology, and Massachusetts Bee Inspector Paul Tessier. Maine State Apiarist Jen Lund will provide an overview of what she's observed during hive inspections throughout the state this past year. Stay tuned for more details!