Welcome to MSBA
MSBA is a non-profit membership organization of beekeepers in Maine, dedicated to education using best practices and the benefits of honey bees to the public. Affiliated with local chapters throughout the state, MSBA also works with the Maine Department of Agriculture, Conservation and Forestry to promote the honey bee, products of the hive and initiatives to support beekeepers.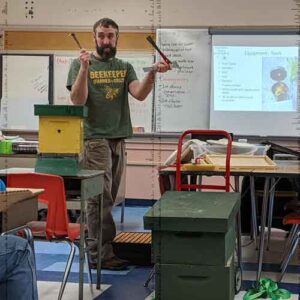 Maine Bee Schools​
Acquiring an educational foundation in beekeeping is essential to becoming a successful beekeeper and will improve your chances of success! "Bee Schools" are run all over the state by local chapters, adult education programs, beekeeping supply businesses, and in cooperation with county extension offices. These are a must for beginners, also an opportunity for those with a year or two of experience to update and refresh their knowledge. Click on READ MORE for 2023 beginner and intermediate courses.
Mead Making Webinar
"The Art of Mead Making ~ The Magic of Water, Honey, and Yeast" is MSBA's first webinar of the year. On Wednesday, February 1st at 7:00 pm Carolyn Nichols will guide you on the creation of mead, the world's oldest form of fermentation. This workshop will focus on small batch artisanal flavors, incorporate basic kitchen chemistry, and is designed for the novice mead maker. Carolyn is a high school science teacher in Bath, where she has organized an on-campus apiary. Members will be emailed a link to the zoom webinar.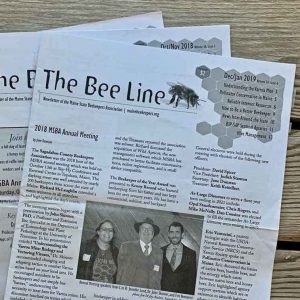 MSBA's 16-page "Bee Line" newsletter is published every other month and packed with lots of beekeeing information. Members can choose to receive a B&W printed copy through snail mail, or as a color PDF here on the website. To switch to digital delivery, log in at mainebeekeepers.org/membership and go to 'Profile' then 'Bee Line Newsletter Delivery.' Current and back issues are always available to read. If you're not a member, click on READ ME to view the entire free 2022 April/May issue and find out what you're missing.