Welcome to MSBA
MSBA is a non-profit membership organization of beekeepers in Maine, dedicated to education, using best practices and honey bee health. Affiliated with local chapters throughout the state, MSBA also works with the Maine Department of Agriculture, Conservation and Forestry to promote the honey bee, products of the hive and initiatives to support beekeepers.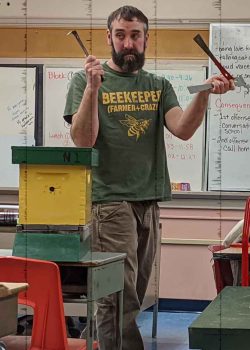 PLEASE GO TO BEE SCHOOL
BEFORE YOU GET BEES
Acquiring some basic but essential skills is critical to becoming a successful beekeeper. "Bee School" will get you off to a great start. In-person courses run for varying lengths from January through April, all over the state. There are also some online classes.

"𝘛𝘩𝘢𝘵 𝘊𝘩𝘳𝘪𝘴𝘵𝘮𝘢𝘴 𝘱𝘶𝘱𝘱𝘺 𝘴𝘺𝘯𝘥𝘳𝘰𝘮𝘦 𝘩𝘢𝘱𝘱𝘦𝘯𝘴 𝘸𝘪𝘵𝘩 𝘩𝘰𝘯𝘦𝘺 𝘣𝘦𝘦𝘴. 𝘈𝘯𝘥 𝘵𝘩𝘦𝘳𝘦'𝘴 𝘯𝘰𝘵 𝘮𝘶𝘤𝘩 𝘐 𝘤𝘢𝘯 𝘥𝘰 𝘢𝘣𝘰𝘶𝘵 𝘪𝘵 𝘰𝘵𝘩𝘦𝘳 𝘵𝘩𝘢𝘯 𝘵𝘳𝘺 𝘵𝘰 𝘪𝘮𝘱𝘳𝘦𝘴𝘴 𝘶𝘱𝘰𝘯 𝘵𝘩𝘦 𝘱𝘦𝘰𝘱𝘭𝘦 𝘸𝘩𝘰 𝘵𝘢𝘬𝘦 𝘮𝘺 𝘤𝘭𝘢𝘴𝘴 𝘵𝘩𝘢𝘵 𝘪𝘵 𝘪𝘴 𝘢 𝘳𝘦𝘴𝘱𝘰𝘯𝘴𝘪𝘣𝘪𝘭𝘪𝘵𝘺." — Andrew Coté
MSBA Annual Meeting 2023
The conference is on Saturday, October 21st at Bucksport Middle School. There will be ten vendor booths, a buffet luncheon, raffle auction and honey tasting contest. Speakers will be Paul Kelly, manager of the Honey Bee Research Centre at the University of Guelph, and state food inspector Sierra Shaw. State Apiarist Jennifer Lund will deliver her "State of the State" address. Registration is $45 and attendees must be members of MSBA (annual dues $15) except for those who come as a member's guest. Click below to register.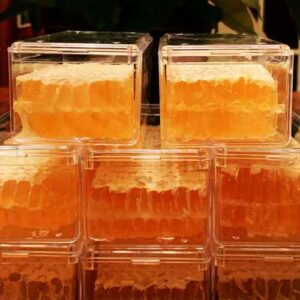 Our final webinar of 2023 will feature "Comb Honey" with Betterbee's Head Beekeeper Anne Frey on Monday, November 6th at 7 pm. Anne says "If you want to make comb honey, it can be done without major colony disruption, and also without expensive special equipment." She'll go over the simplest ways to produce small batches, as well as Ross Rounds and Hogg Halfcomb systems, and cover how to gauge the nectar flow and your colony strength for best comb honey results. Click below for the link to the Zoom meeting.