Welcome to MSBA
MSBA is a non-profit membership organization of beekeepers in Maine, dedicated to education using best practices and the benefits of honey bees to the public. Affiliated with local chapters throughout the state, MSBA also works with the Maine Department of Agriculture, Conservation and Forestry to promote the honey bee, products of the hive and initiatives to support beekeepers.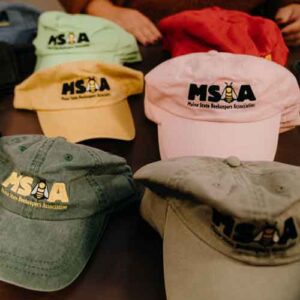 Gifts for Beekeepers
Need a holiday gift idea for your favorite beekeeper (or maybe yourself)? MSBA's high quality, 100% cotton baseball caps are a popular item for non-beekeeprs as well, and are now selling fast. They are available in multiple colors: Red washed, Blue washed, Green washed, Brown washed, Mustard yellow, Khaki w/black letters, Khaki with hive, Black, Pink, Neon green, Royal blue, Dark brown, Berry, Charcoal, and Navy. All caps cost $25 each, which includes free shipping. Click on READ MORE for a link to the MSBA's online store.
2022 Annual Meeting
The MSBA Annual Meeting convened in person on October 15th at the University of Maine at Augusta, with presentations from Dr. Thomas Seeley, author of Honeybee Democracy, and Dr. Lewis Bartlett, honey bee biology and health researcher at the University of Georgia, and state apiarist Jen Lund. Attendees enjoyed lunch, vendor booths, raffle of many bee-related items, and honey tasting contest. Awards were given to Jason Peters, Beekeeper of the Year; Rainier Eich, Junior Beekeeper of the Year; and Bill Truesdell for Lifetime Achievement.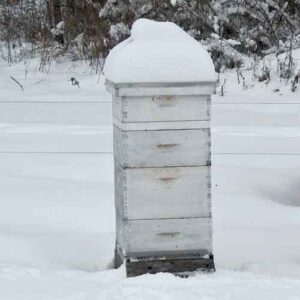 Hopefully you have more time on your hands now that the bees are hunkered down in their hives. We'd appreciate it if you would take a few minutes of that time to complete a short survey. It will provide MSBA with information about Maine beekeepers' needs, particularly in the area of educational resources and opportunities. You don't have to be an MSBA member to participate, but must be a current beekeeper. All who take the survey will be entered to win a $100 gift certificate to a beekeeping supplier of their choice. Click on READ MORE for the link.