Cumberland County Beekeepers Association Presents:
Swarm Prevention, Management, and Capture
Hands-on Workshop
Wednesday April 25th, 2013
6:30 pm – 8:30 pm
Location: Mabel I. Wilson School, North Yarmouth Maine
Presenter: Erin MacGregor-Forbes, Master Beekeeper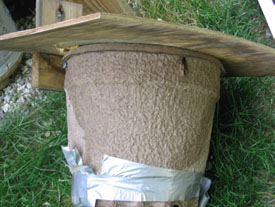 This will be a lecture style workshop discussing the causes of, and reasons for, honeybee swarms. How to manage and reduce the swarm impulse in your own colonies, how to make splits (artificial swarms) and how to capture swarms once they have left the colony.
Participants will learn the fundamentals of how to assess their colonies' swarm preparations, how to make a split, what to have on hand to be ready to capture swarms, and how to make a "Swarm Trap."
Each registered participant will leave the workshop with one plant pot style swarm trap ready for use in his or her own apiary.
The purpose of this workshop is to begin educating our membership in methods of sustainable apiary management and prevention of nuisance bee issues.
Cost this year is $35 for Cumberland County Beekeepers Association paid members (a savings of $10 from last years cost) and $45 for non CCBA members and it includes the "swarm trap".   Participation is limited to 30 registrations. Please use the form below to register or click the link on the MSBA website and use the pay pal function. April 20th will be the cutoff date for mail in registrations.